Where to Purchase
If you're a real oatmeal enthusiast and you find your little bags of oats are always running on empty (we know the feeling…we take our oats home from the mill in five gallon pails), you might need a 9 kg package of Naked Oats in your life.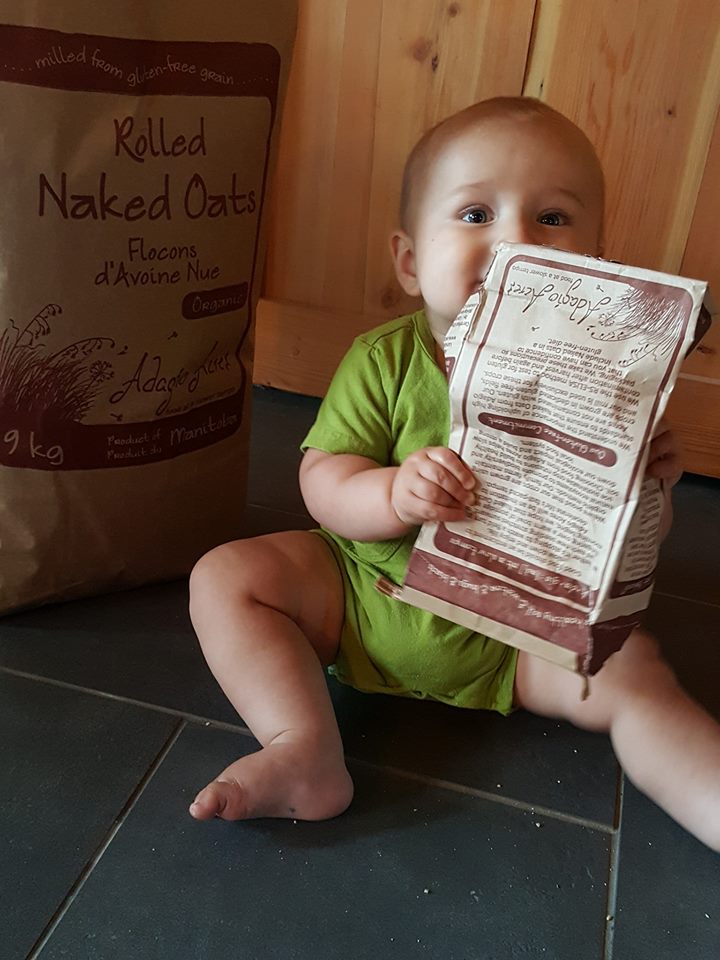 These can be purchased from a few select retailers (De Luca's on Portage Ave, Local Meats & Frozen Treats in St. Vital, Stonewall Family Foods, and Soul Foods Conscious Grocer in Saskatoon).
You can also contact us for delivery to your Winnipeg doorstep.  Rolled, Steel Cut, Quick Cooking, and our Rice Blend are available, $50 for the first bag and $37 for any additional bags purchased.
For those further afield, you can meander over to our shop page to order online.  Free shipping is included on the purchase of any 5 packages.
Our retail packages can also be found at the following locations:
Winnipeg:
Aviva (St. James St.)
The Yellow Deli (Des Meurons Ave.)
Crampton's Market (Waverly & Bishop Grandin)
De Luca's Specialty Foods (Portage Ave)
Frig's Natural Meats and More (Main Street – Just past the perimeter)
FoodFare (905 Portage Ave & 247 Lilac St)
Generation Green (Bannatyne & Portage Ave)
Jardins St. Leon Gardens (Open Seasonally – 419 St. Mary's Rd)
Local Meats & Frozen Treats (593B St. Anne's Rd)
Organic Planet (Westminster)
Red River Co-ops
– Grant Park
– Southdale
– St. Vital
Safeway – Unicity
Save on Foods – 3 location in Winnipeg
– St. James
– Bridewater Forest
– Northgate
Scoop and Save Health Foods (Portage Ave.)
Scoop N' Weigh (Taylor Ave)
Sobeys – 6 Locations in Winnipeg
– Birds Hill
– Northdale (965 Henderson Hwy)
– Rivergrove (2575 Main Street)
– Kenaston Commons (1660 Kenaston Blvd.)
– Grant Park (1150 Taylor Avenue)
– St. Anne's (1939 Bishop Grandin)
– Unicity (Portage Ave)
Vic's Fruit Market (Pembina Hwy)
Vita Health – 7 Locations in Winnipeg
– Garden City
– Tuxedo
– McPhillips
– Reindeers Square
– St. Vital
– Unicity
– Osborne
Steinbach
Country Meats & Deli
Nature's Farm "Food Shed"
Brandon

World of Water (18th Street)
Portage la Prairie
Honeybee Health Foods (Sask Ave W.)
Prairie Health
Lundar
Lundar General Store
Sabados Greenhouse (and if you happen to be at the greenhouse, take a quick glance across the road – you're looking at one of our oat fields!)
Selkirk
Selkirk Red River Co-op
Stonewall
Stonewall Family Foods (Stonewall)
Saskatoon, Saskatchewan
Soul Foods Conscious Grocer (retail and foodservice bags available)
Herbs n'Health
Mom's Nutrition Centre
Calgary, Alberta
Planet Organic (all locations)
Blush Lane – Bridgeland
Italian Centre Shop
Pasu Farms
The Cook Book Company
Miss Ps Gluten Free