Dandelion Granola Bars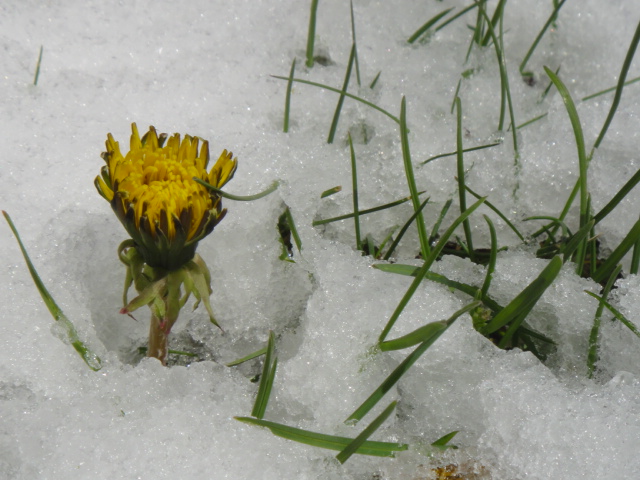 Dandelions are one of my favourite wild edibles because they're so darn attainable – everyone knows them, and some neighbours are even willing to part with them! This recipe uses the roots of the plants, which are best dug up in late fall when they are the largest (although other times of year will work as well). This is also particularly satisfying if you allow 'weeds' to overtake your garden in August and September after earlier plants have been harvested, and then get the pleasure of a second, equally bountiful harvest just before the first snowfall. It's one of those wonderful occasions when doing less really is more! Dandelions that grow in loose soil will have near-carrot sized roots, whereas those competing in a field or your lawn will be harder to dig up and the roots will be stringier, but if you keep an eye out you can often find other spots that have looser ground and more pleasurable digging.  And there really is no better way to connect with your food than to have to hunt it down (better still if it doesn't run away from you).
After harvesting, wash the roots thoroughly to get rid of all the dirt (this can be pretty time consuming), slice them into rounds, and roast them in the oven. I have baked the roots at 275⁰ for several hours, or at higher temperatures for shorter periods of time, but keep a close eye on them to ensure they don't burn. A cookie sheet full of laboriously collected and washed roots, burned to a blackened crisp, is enough to make one weep. After they have been roasted and cooled down the roots can be stored indefinitely, although if they've somewhat old, roasting them for an extra few minutes just before using them will really bring out the flavour.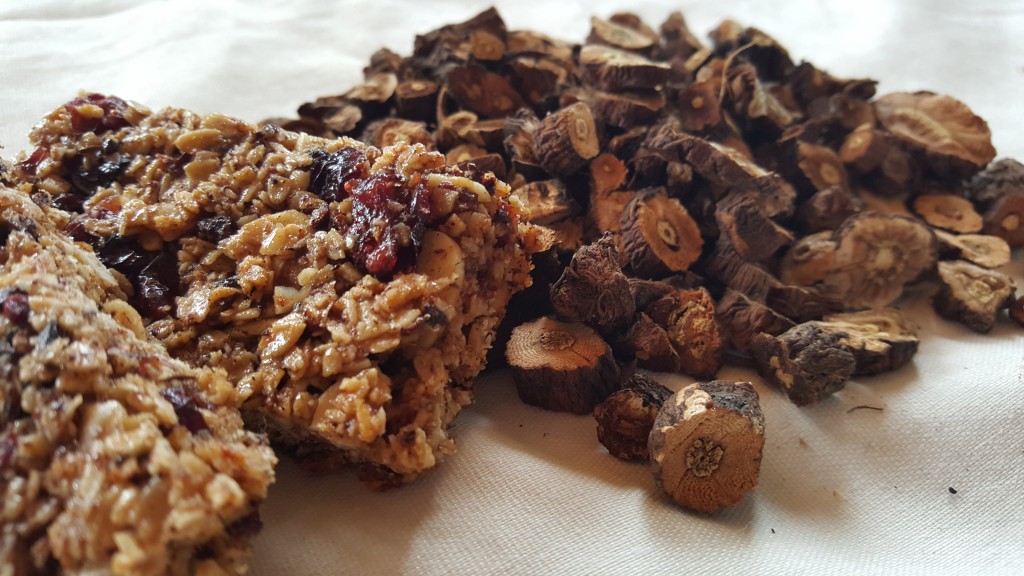 Dandelion Granola Bars
¼ cup coconut oil (or butter)
½ cup honey
½ tsp vanilla
⅓ cup roasted dandelion root
2 cups rolled oats
⅓ cup ground almonds
½ tsp cinnamon
¼ tsp salt
⅓ cup shredded coconut
½ cup dried cranberries
Combine coconut oil or butter with honey in a small saucepan. Melt over a low temperature. Remove from heat and add the vanilla. Grind the dried dandelion roots into a reasonably fine powder (coffee grinders work nicely for this) and add to the honey mixture.
Measure rolled oats, ground almonds, cinnamon, salt, coconut, and dried cranberries into a mixing bowl. Add the honey mixture and stir to combine. Line a 9×9 square pan with parchment paper and spread the oat mixture into the pan. Press down firmly.
Cook for 20 minutes at 350⁰, or until sides are beginning to brown slightly. Allow to cool in the pan before slicing into bars (stars, leaves, etc.).