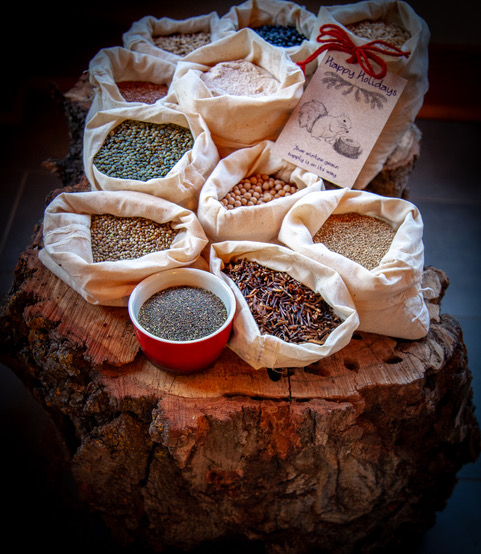 First things first - we want to say "thank you" to so many who have jumped on board with this project with both feet! Although we have doubted our sanity many times along the way (take for example, this morning, when we realized that the black beans we are cleaning in our mill were destroying our augers, and so we had to rope in extra help and "chain gang" the black beans in buckets up ladders and into each machine...phew...arms are still aching!!). But along the way, we have been so encouraged by those who have purchased shares, emailed us with encouragement, and extended help in so many different ways. Offering space or supplies to use for the pick-up day, bringing extra containers to share with others, working through technical difficulties on our website, sharing recipes, spreading the word, and so much more. We are so excited to see this initiative building a wonderful community of farmers, foodies, and ecologically-minded folks!


With Christmas on everyone's mind, we decided to add a mini grain bundle (shown above) that is sized as a sampler and can be given as a gift. Our mini grain bundle can be added on to a half, full, or gigantic share, and is a great gift for the foodies, or zero-waste enthusiasts in your life. Each sampler will include all of the same goodies as a full share, but with 1/4 lb - 2 lbs worth of each item, and includes a hand-drawn tag to accompany your gift. We've applied our "bulk pricing" to this mini sampler (the same food items would cost you over $60 at a big box store!), so it is only available as a bonus for those who have already purchased a share. The gift tag can be printed at home or picked up in Winnipeg, so it's an easy last-minute gift for last-minute people like us :)

We recently added 7 lbs of organic emmer flour into your grain share, and we are ridiculously excited to be including this product, as it has not been available in Manitoba before! This ancient variety of wheat (older than spelt, but similar in some ways) was grown by the Harris Family near Stonewall, and will be milled into flour by Dan and Fran Deruyck. However, if you have allergies or are otherwise keeping gluten out of your diet, the emmer flour may be substituted with an additional portion of any other product upon request.
Also, many of you have been in touch and asked about other local goodies that you've been trying to track down. So we've added another exciting option for our shares! A 20-25lb mix of locally grown, chemical-free winter squash, carrots, potatoes (grown by Jonathan's Farm), onions, and cabbage (grown by Ploughshares Community Farm), that you can add-on to your share, for one convenient pick-up spot. The perfect companion for your winter-y lentil and black bean soups!
And finally - a decision has been made:
The deadline for reserving a Winter Grain Share will be January 9th, 2019.

Winnipeg's pick-up day will be on January 19th, 10am-4pm at 90 Annabella Street in downtown Winnipeg.
Brandon's pick-up date will be on Thursday, January 24th, with the location still to be determined.

Other pick-up options are also available on request, but bringing your own
containers may not be possible.
One thing that gets us excited about our Winter Grain CSA is that it's actually a negative waste initiative, and participating is one way that we can have a positive impact on a major problem facing the environment: 40% of the food grown in Canada is wasted, which puts a strain on the environment and our agricultural production. Many of the items we're preparing for the Grain CSA were on the fringe of the production system - grown in too small of quantities, too far from processors, or simply not meeting aesthetic requirements. For example, a higher than normal percentage of the black beans are split in half, and grain processors are afraid that consumers won't like them this way, but... we're pretty sure once they're mashed in enchiladas, no one's going to notice and they'll still taste just as delicious!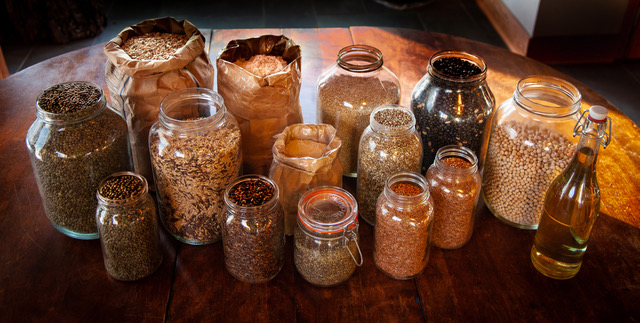 As an additional way to reduce our impact, we would like to invite you to start collecting jars and containers to pick up your grain share in, and as an incentive, we are offering an extra portion of oats or lentils if you bring reusable containers to the pick-up day. Some examples you could start collecting include: mason jars (4 litres - 500 mls are great but all sizes work), clean and dried out wine bottles, ice cream, yogurt and dairy containers, cookie tins from gramma, juice jugs, bags from previously purchased rice or flour, paper bags, cotton bags, etc. For a full share, which is approximately 65 lbs of food, you will need about eleven 4-litre containers (or twenty 2-litres, etc. etc.) and five 1-litre containers. Christmas is often a time where there is more packaging being tossed around than usual, so keep your eyes open during the holidays for ways that you can 'reclaim' items that were destined for disposal. We laid out a full grain share in the containers we had in our pantry (photo above), so you can see what it will look like and can start finding your own reusable containers for the pick-up day.

We'll be in touch within the next few weeks to give another reminder, as we know the holidays can be a hectic time. For now, we'll leave you with our favourite Black Bean Soup recipe as we head out to the mill to finish getting the black beans cleaned up and ready for your winter soup pots!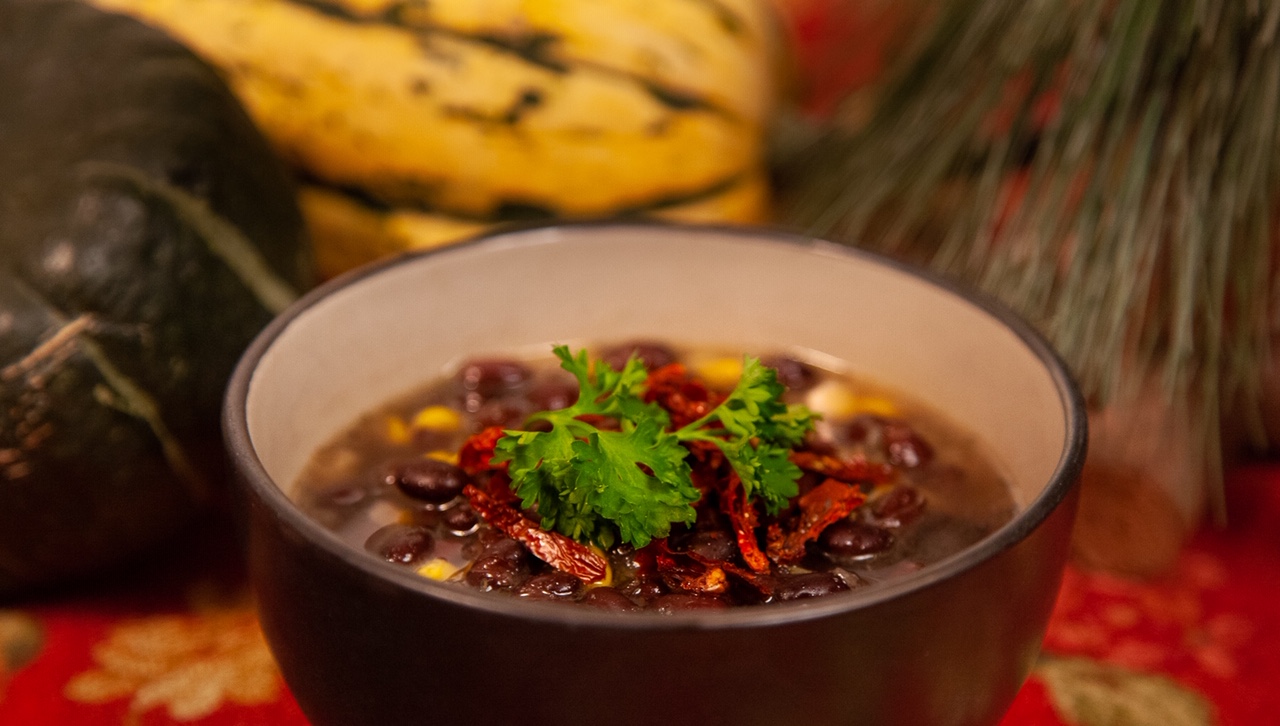 Winter Black Bean Soup
1 ½
cups
uncooked (dry) black beans
½
large yellow onion, finely chopped
¼
tsp
chipotle powder or smoked paprika
2
ribs of celery, finely chopped
3
cloves of garlic, minced
8
cups
vegetable, chicken or beef broth
2
tsp
dried oregano leaves
2ish tomatoes (dried, canned, or fresh)
fresh chopped cilantro leaves
shredded cheese or sour cream
1

Place black beans in a bowl and cover with 4 inches of water. Soak overnight. Discard the water and rinse the beans thoroughly in a colander.
2

In a large saucepan sauté the onion, celery and corn for 2 minutes. Add the garlic, cumin, and chipotle and sauté for 1 minute more.
3

Stir in the broth, soaked black beans, bay leaf, sea salt, and oregano. Bring to a boil. Reduce heat to medium; cover and let simmer for 2-3 hours or until the beans are soft and cooked through. Discard the bay leaf and add the tomatoes.
4

Serve hot with your garnish(es) of choice & enjoy!


For more information about our winter gran shares, visit our website: adagioacres.com/wintercsa/