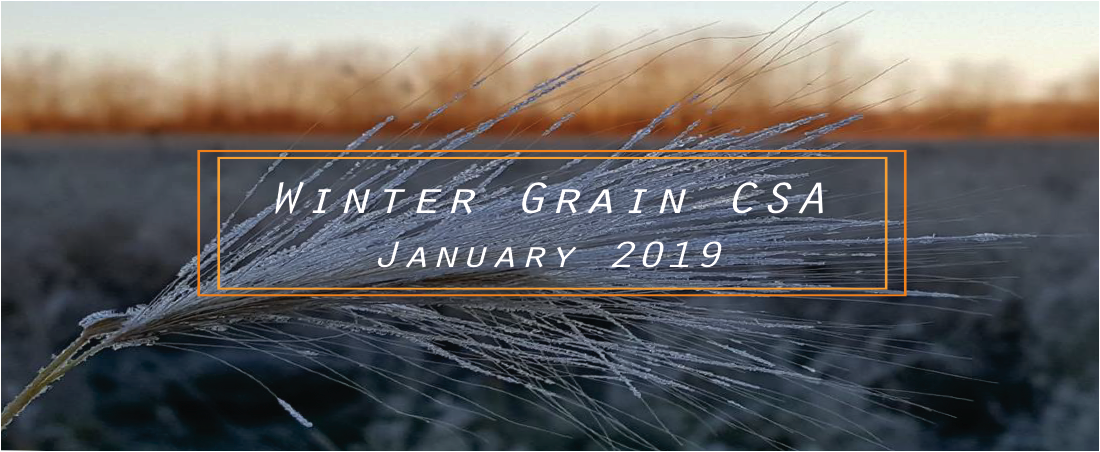 Summer is behind us, but enjoying local, organic food shouldn't be!
Join us this winter as we start our first ever Winter Grain CSA! Partnering with Rigby Orchards Farm, Crocusview Farm, Plowshares Farm, Tamarack Farm, DeRuyck's Top of the Hill Farm, & others, we'll be bringing you a bundle of organic food that will fill your pantry for months!


By purchasing a share, you are making it possible for small-scale organic farmers around the province to take risks, try new crops, new rotations, incubate value-added ventures, and have the security of knowing that there is a local market for what they are growing.


Over the past week, we have been ironing out the technical side of our website, and are now ready to take orders. Thank you to all of you who have been getting in touch with suggestions, ideas, and even some problems along the way. I think we've got most of the bumps smoothed out on our website now, so thank you for your patience and for your overwhelming support for this project!

We believe strongly that local organic food shouldn't just be available to those with the time and resources to source it out. We're working hard to keep the price LOWER than the cost of buying equivalent products at a grocery store (cutting out a lot of transportation, distribution, and packaging). But living with a reduced income often means not having the time or resources available to find "good deals," and I can't deny that organic food is more expensive. Right from the start, we committed to donating 1 share to a family in need for every 15 shares purchased, and we will be working with Food Matters Manitoba and other local non-profits to identify low-income and newcomer families to receive a share of local organic grain to fill their pantries as well.


For the next 2 days, we want to TRIPLE this donation, so for every FIVE shares purchased before 10 am this Saturday, we will be donating 1 share to a local family in need.
Our pick-up date is tentatively set for January 19th at 90 Annabella Street in downtown Winnipeg. There's parking for hauling out your goods, and space for us to set up "scooping stations" for so many of you who have already expressed excitement about our aspirations for zero-waste. For the local food enthusiasts in the Brandon area, we are also planning a pickup at a yet-to-be-determined location in Brandon on January 12th.
Included in a full share you'll find:
French Green Lentils (7 lbs)
Black Turtle Beans (7 lbs)
Yellow Peas (5 lbs)
Naked Oats (10 lbs - your choice of rolled, quick, or steel cut)
Quinoa (5 lbs)
Wild Rice/Oat Rice (5 lbs)
Flax (3 lbs)
Hemp (1 lb)
Buckwheat Flour (3 lbs)
Sunflower Oil (1 L)
and a few more yet to come!
As well as add-ons like:
Whole Wheat (flour or whole wheat berries)
Spelt Flour
Emmer Flour
Half Shares and Gigantic Shares are also available For more ordering information, visit our website here.


If you are interested in seeing your food dollars go directly to farmers, if you want to support experimental and regenerative agricultural practices and small-scale organic production, consider participating in our Winter Grain CSA!
And in other farm news: Flax!!!
We've been busting out the moves in our mill trying to get our organic flax cleaned and ready for the Winter Grain CSA. I can't say that it's been a breeze. Every time I head over to the mill I promise I'll be back home in an hour or two. My family now knows to take my time estimate and multiply by a factor of four. I'm always late for lunch when I promised to be home before the little guy's morning naptime…


Grant (of Rigby Orchards Winery), who grew this amazing crop, has been here at the mill for the last week, helping us to calibrate machinery, fix problems, run trials, fix more problems, and then start over again. But the flax pile is starting to add up: hundreds of pounds of flax that is beautifully weed-and-straw-free and ready to eat!


But how does one eat flax? Before starting on this adventure I would occasionally sprinkle a spoonful over my oatmeal, but that was about the extent of our flax consumption. If I was in the middle of making a recipe that called for ground flax, I'll admit, I often just tossed in an extra sprinkle of oats and called it good enough :) But over the past week, we've tested out flax waffles, flax pancakes, and flax cookies, and love the extra crunch and flavour that it lends to everything.


We're so excited about sharing this adventure with you all – taking food that is undervalued and ignored and making it front and center in your kitchens!