Description
We're so excited to be offering our Winter Grain CSA for pick up in January 2021!
Sadly, we will have to restructure things in order to fit within the guidelines that these strangest of times have necessitated.  This year, we will not be able to run as a "zero-waste" bulk food option, so all products will be pre-packaged (in compostable paper bags) and ready for a quick pick-up in Winnipeg.  No grain mandalas on the floor of the kids area, no hanging out and chatting with the farmers, no member-led workshops…(muffled sobs…) But this is a temporary adjustment, and we're looking forward to a double-dose of community vibes in future years!
And all is not lost for this year either.  There is still incredible food being grown in this province, and we're honoured to be able to bring this food to your homes where it belongs.  We might need to use packaging, but we can still reduce the carbon imprint of our food miles, eat more plant-based meals, reduce food waste, forward the discussion about local food security and sustainability, and share home-cooked meals with our loved ones.  There's not just one way to have a positive impact on the world around us!
So let 2021 be the year of soup slowly simmering in a pot, simple meals shared with our nearest and dearest, and a chance to look inward to the things that have always mattered the most anyways.
Your January 2021 Gluten Free grain bundle will include (approximately*) the following Manitoba grown products:
Organic Naked Oats (20 lbs/9kg – you get two choices of rolled, steel cut, quick cooking, or whole/unmilled oats – check out the link if you're not sure which type is best for you)
Organic Quinoa (4 lbs/1.8kg)
Organic Black "Beluga" Lentils (8 lbs/1.8kg)
Organic Yellow Peas (5 lbs/2.2kg)
Organic Wild Rice/Oat Rice Blend (4 lbs/1.8kg)
Organic Flax (2 lbs/900g)
Organic Lambsquarter Seeds (.5 lb/226g)
Organic Navy Beans (4 lbs/1.3kg)
Organic Pinto Beans (2lbs/900g)
Organic Cornmeal (6 lbs/1.3kg)
Organic Hemp Seeds (.5 lb/226g)
Organic Buckwheat (1lb/454g)
Organic Buckwheat Flour (8lbs/3.6kg)
Organic Cold-pressed Sunflower Oil (750 ml)
Organic Camelina Oil (750 ml)
An additional item yet to be determined (millet? wild rice? chickpeas?  Still working out some details, but something more is coming!)
*** For those with allergies or other gluten intolerances, we have put together a gluten-free grain share.  Although our own processing facility and mill is dedicated to gluten free crops, our regular CSA bundle includes some wheat and flour products that are cleaned and milled off-site by other organic farmers (Dan and Fran Derucyk of Top of the Hill Farm and/or Tamarack Farms).  But for those with celiac disease or other gluten-intolerances, we have put together this share option that excludes these crops, and tops you up with extra buckwheat flour/oats/cornmeal in it's place to help out with your GF baking.
Because of the high occurrence of wheat contamination in oats specifically (the grains are very similar in size and colour, and are often grown in succession with each other), our naked oats are grown and milled following a very thorough gluten-free protocol that encompasses everything from our choice of seed, field selection and crop rotations, harvest and transport equipment, and dedicated milling equipment.  In addition to these protocols, all lots are tested with an R5 Eliza Gluten test after harvest and after milling (further details are available here.  Other products in the CSA are not produced under the same rigorous gluten-free standards (there are only a small handful of entirely gluten-free and organic farms in all of Manitoba) and so some of the products have been grown on farms that also grow wheat, but because of their size/shape/colour differences, they have a very very very low chance of contamination in the final product.  The french green lentils from the regular share are excluded from the gf shares because there is some trace rye contamination in the lentils.  Not enough to be a problem for average folks, but possibly enough to cause difficulties for someone with a severe reaction to gluten.  We've doubled the beluga lentils in this bundle to make up the difference.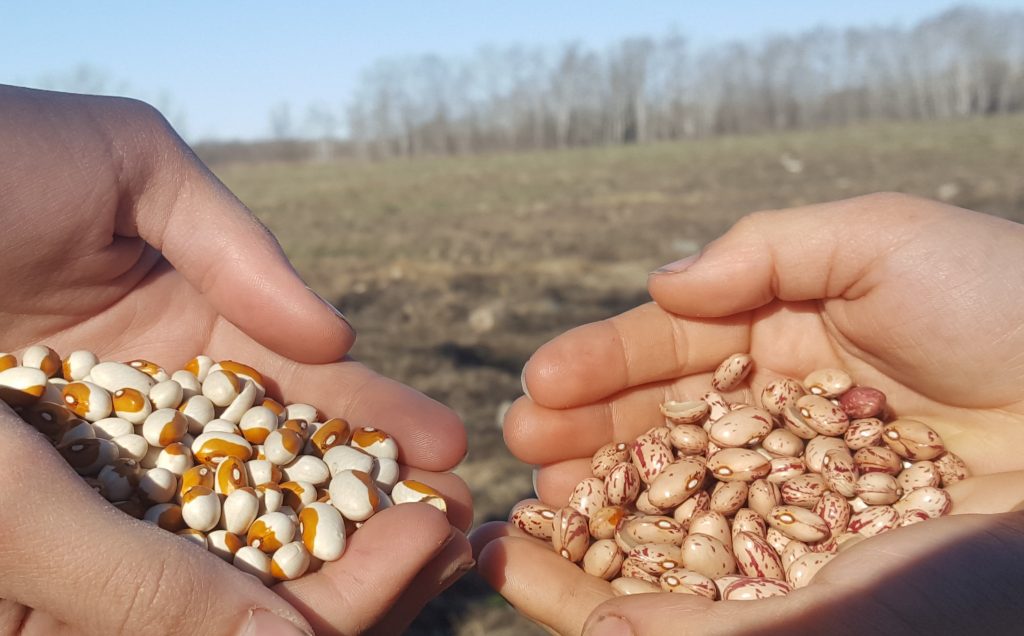 * The list is an approximation because the process of rounding up grain and milling it for the CSA is not an exact science.  For example, the corn is still drying in the field and is still a bit of a wild card!  But harvest isn't the only unknown.  One farmer has a tote bags of pinto beans that will be heading our way in a few weeks.  We're guessing that it might be about 2,000lbs, but that could vary +/- 500lbs because it won't be weighed until it gets here.  So we might be down to 1,500.  Then when we start cleaning out the straw and weeds, we might be left with 75% of what we started with, but often less.  Now we're guessing closer to 1,000lbs.  We're hoping that there will be enough there to give everyone 2 lbs, but we really won't know until we finish it all.  If there ends up being less than we hoped, we'll add in some extra navy beans or maybe find a whole new product to fatten the bundle.  Over the next month i'll be updating this list as crops are milled and prepared, so if you're unsure about whether this works for you, watch for the next newsletter with more updates.
It's a totally different way of doing food.  It's letting the harvest, the sun and the rain dictate quantities.  We will do everything we can to ensure that you get fair value for your purchase (when we tried to do the same shopping trip at Superstore it came out to $260, but I had to leave without everything on my list, and substituted a few non-organic products along the way…), but if you have very precise and calculated quantities that you need for your pantry, this might not be the best fit for you.  When the round-up in complete and the dust has settled from the January pick-up, we will have "extras" available to order where you can be choosy about what you want and what you don't.
In years past, we have offered half-sized and gigantic-sized shares.  Because of the logistical challenges with pre-packaging everything this year, we have decided to simplify and just offer one size of share.  If you are a half-share kind of person, and wouldn't be able to use a full share, please consider finding a friend or neighbour to split a share with, or join our "Winter Grain CSA" facebook group – a few people in that group are looking for people to split shares with as well 🙂
Pick up will be in mid-January (Saturday, January 16th seems like a likely bet) in Winnipeg, with social distancing in mind.  Details will be sent out by email a few weeks in advance.  Depending on gathering size restrictions at the time, we will likely be asking people to pre-book a time slot to come pick up their share.
For those who are not able to make it to our pick-up day, the option of having your share delivered to your home (Winnipeg, Steinbach, Stonewall or Brandon addresses) is also available.  Select "home delivery" at checkout for a $15 fee.
Help us make local organic food available to everyone!  Again in 2021, our goal is to donate a minimum of 1 share to a family in need for every 15 shares purchased.  At last year's CSA, we were able to donate almost 50 shares, which came to 4,000lbs of local organic grain to those who need a boost!   In addition, we were able to donate an additional 8,000lbs of rolled oats to Winnipeg Harvest and the School Breakfast Program throughout the year.  If you are in a position to help others, please consider adding an additional $10 to your share (the option will be shown at the checkout), which will go directly to making more food available to our community partner organizations.  We have been working with a number of different soup kitchens and food banks, and also with the team of dieticians with Klinic Health to give grain bundles directly to newcomers and low-income families in need.
For additional local food items, check out the add-ons below for locally grown veggies, honey, or limited quantities of "extras" from last years CSA (blackbeans and soybeans).