Gluten-Free CSA (Gigantic Share)
Sale!
Description
For those with allergies or other gluten intolerances, we have a gluten-free grain share available.  Any grain products that contain gluten in themselves (spelt flour & einkorn flour), or other grains that have a chance of cross-contamination with gluten because of being grown on farms that also grow wheat, or where wheat was found in some of the cleaned samples (french green lentils) are omitted from this share.  To compensate for these products being omitted, the quantity of gluten-friendly products in the share has been increased.
At the CSA pick-up, the einkorn flour and spelt flour in the regular shares will be pre-packaged to prevent contamination of other products, and these wheat-like products will not be processed/milled in our facility, which is dedicated to gluten-free production, but instead are milled by Deruyck's Top of the Hill Farm.
Because of the high occurrence of wheat contamination in oats specifically (the grains are very similar in size and colour, and are often grown in succession with each other), our naked oats are grown and milled following a very thorough gluten-free protocol, and in addition to these protocols, all lots are tested with an R5 Eliza Gluten test after harvest and after milling (further details are available here.  Other products in the CSA are not produced under the same rigorous gluten-free standards (there are only a small handful of entirely gluten-free and organic farms in all of Manitoba) and so some of the products have been grown on farms that also grow wheat, but because of their size/shape/colour differences, they have a very very very low chance of contamination in the final product.
Your January 2020 gluten-free grain bundle will include (approximately) the following Manitoba grown products:
Organic Naked Oats (30 lbs – your choice of rolled, steel cut, or quick cooking)
Organic Quinoa (14 lbs)
Organic Black Beluga Lentils (20 lbs)
Organic Yellow Peas (16 lbs)
Organic Wild Rice/Oat Rice (14 lbs)
Organic Beans (10 lbs – still to be determined – maybe black or pinto beans?)
Organic Flax (6 lbs)
Organic Hemp Seeds (4 lb)
Organic Cold-pressed Sunflower Oil (2 L)
Organic Camelina Oil (2 L)
Organic Lambsquarter Seeds (2 lbs)
Organic Wild Rice (6 lbs)
Organic Whole Soybeans (6 lbs)
And a few other items yet to be determined (possibly fava beans, millet, sunflower seeds, or whatever this late and unpredictable harvest brings us!)
Early-bird pricing will only be available until November 12th, and changes to quantities and products are practically guaranteed.  This is only a preliminary idea of what the 2020 grain share will look like.
Final cut-off for orders will be January 6th.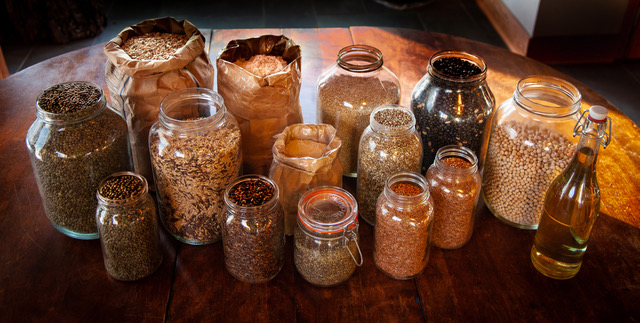 Please help us reduce our environmental impact by bringing your own containers to the pick-up location.  None of these items will be packaged, so you will need to bring approximately eight 2-gallon pails, six 1 gallon pails, and 4 wine bottles, or containers of equivalent size.  The photo above is an example of a full-sized 2019 share, and the size of containers that we found to carry it all.
If you have extra containers (a stack of clean ice-cream pails? that stash of mason jars from your granny who no longer makes boat-loads of jelly every summer? wine bottles with screw-tops are particularly helpful for transporting oil!), please bring them along for those who aren't able to bring enough.  We will have a wash station where extra containers can be exchanged and re-purposed.
Pick up will be on Saturday, January 18th, from 9:00-5:00 at the J.R. Watkins Warehouse building on Annabella St. in downtown Winnipeg.  Expect to meet lots of the farmers who grew your winter grain supply, enjoy a bowl of soup or a mug of steamy oat-milk, and spend time trading cooking tips with like-minded folks.  Please consider carpooling to the pick-up, for all the usual reasons, and to help keep the parking situation reasonable for everyone.
For those who are not able to make the pick-up day, the option of having your share pre-packaged and delivered (to Winnipeg or Brandon) at a later date is also available.  See the add-on below for details and pricing.
If you're a single person or small household, half-sized shares are also available.  For those with lots of people to feed, we also offer a Gigantic double-sized share.
Help us make local organic food available to everyone.  As a result of last year's CSA, we were able to donate over 1,000lbs of local organic grain to community organizations like Food Matters Manitoba, the Muslim Women's Foodbank, and to individuals in need, as well as an additional 5,000lbs of rolled oats to Winnipeg Harvest and the School Breakfast Program throughout the year.   Again in 2020, our goal is to donate a minimum of 1 share to a family in need for every 15 shares purchased.
For additional local food items, check out the add-ons below for locally grown root-veggies, honey, or extra oats.