Hello to all our amazing CSA folks,


Okay. Last time. Major changes ahead. It's been a tumultuous kind of week and we need to start off by apologizing for all this craziness. Us and our 14,000 lbs of grain have been blowing in the wind like a carefree tumbleweed...it almost seems like this whole thing was organized by some willy-nilly farmer! When I started this project a few months back, I thought there might be a handful of people signed up. Boy did that change in a hurry, and along with it, so have our requirements for a pick-up space.


So, if you were planning to spend your Saturday drooling over seed packets at T&T Seeds, keep those plans because nothing beats away the mid-winter blues like planting a few indoor herbs, but first make a pit-stop at

Torque Brewing, where we will be set up

and ready to scoop out your grain bundles

this Saturday

. Come any time between

9:00am and 4:00pm

with your containers (if you can, if not, we've got you covered), chat with a few of the amazing folks who grew your winter grains, and meet other Manitobans who are looking for new ways to live kindly on this earth.


We'll have a pot of soup on simmer (if you can bring a bowl or mug and a spoon that would also be amazing), and a craft table for kids and grown-up kids too. We're really looking forward to meeting you all!


We'll also have a fun surprise for you at the pick-up. No hints, but the colour of Manitoba food is almost as incredible as it's taste. Tee hee!
For those of you in or near to Brandon, the pick-up day is still set for Thursday, January 24th, at 318 11th St. Come and stop by between 2:00 and 6:00 pm with your containers, and we will send you home with full bellies (mmmm...soup...) and your winter grain supply.
Last but not least....a non-recipe recipe...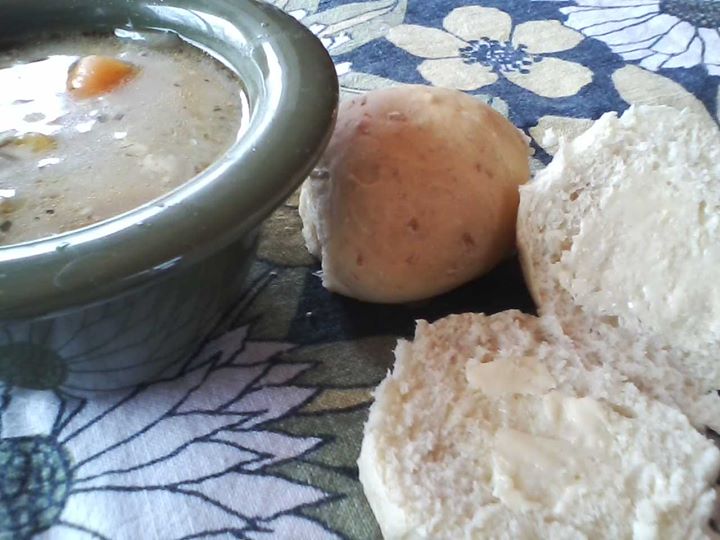 My mom's famous "Fridge Dump Soup" (best way to use anything from the back of the fridge) and bread made with cold slimy leftover oatmeal. She promises your bread will never be the same twice if you take a pot of whatever oatmeal is left from the morning, heat it up, and toss it into your dough. Sometimes non-recipes are the best recipes there are. Thanks mom, for inspiring me to value "leftovers" and bring forgotten food back into the spotlight :)
Once again, the NEW new-and-improved pick-up location will be at Torque Brewing at

830 King Edward St

. from 9:00am to 4:00pm (location/map here)


PLEASE SEND A QUICK REPLY TO LET US KNOW THAT YOU GOT THIS EMAIL AND THAT YOU WILL TRACK US DOWN IN OUR NEW **NEW** LOCATION.
(thanks...if we don't get a reply from you we'll give you a call to make sure you know where to find us...)